I'm so excited to be in the Put a Stamp On It Blog Hop!! Thanks to Madame Samm for creating another super fun Blog Hop!! Thanks to Thearica from PigtalesandQuilts for Hosting all the fun!!
I decided to do a red, white and blue theme for my Colorado stamp mug rug with July 4th right around the corner. I put the Rocky Mountains on my stamp and chose 38 cents since Colorado is the 38th state to enter the union. I tried to show my stitching around the star but its still hard to see.
Here is my husbands mug, it goes perfect with the mug rug!!
Here is a photo of a deliciously scented Bar of Soap from CranberryMorning.blogspot.com, I will be giving away a gift certificate for 2 of her wonderful bars. I love them and they are all natural. I even wash my face with the cranberry one I have. All you have to do is comment!! Of course I would it if you followed me!!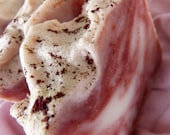 Here are all of the other wonderful creative ladies showing off their super fun stamps today!!